Google announced last Tuesday on the Webmaster Tools blog that some changes had been made to sitelinks.
Instead of appearing as two columns containing just links to the site in slightly smaller text.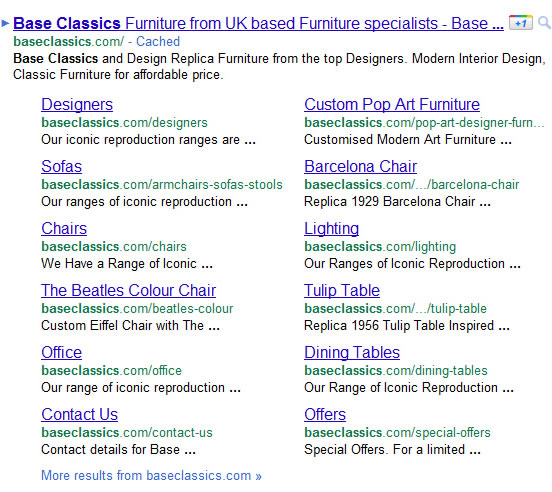 The updated version shows the links in full size text with the destination URL below and an excerpt of the meta description which is about 35 characters long.
The maximum number of sitelinks has also increased from 8 to 12.
These new updates are great for sites with a good enough page or link structure for Google to create sitelinks for them, however if a site isn't structured well enough for sitelinks to appear it could look like your site is pushed further down the SERP due to the sheer size of the new sitelinks.
The average height of the old style of sitelinks was about 150px high, the new style takes up about 450px!
To put this into perspective on a SERP which contains no ads at the top or sites with sitelinks I can see 9 different results, whereas on a SERP which has a result with sitelinks at the top I can only see 5.
There are still 10 results on the page, but I'm even less inclined to click the ones further down (I'm quite lazy).
The lesson for today? Get your site structure sorted!
URLs should reflect the hierarchy of that page in your site and what category or categories (depending on the complexity of your site) it relates to.
Link structure is probably one of the biggest factors in ensuring you get sitelinks (it's the only specific factor mentioned on the Webmaster Toools blog post).
The two most important rules of good link structure:
Every page on your site should be accessible within 3 clicks.
Ensure there are no orphaned pages on your site (unless you don't want them indexed).
What do you think of the new sitelinks? Has your site been affected for the better or worse?