Having access to several commercial websites that are not optimised for mobile, we decided to conduct few experiments to measure the impact of the recent Google Mobile Search Algorithm changes on these websites. Is still early days to see some bigger picture but since Google announcement about rolling mobile search changes from 21st April 2015 (just nine days ago) everyone was looking forward to the first signs of this implementation. Earlier this week we noticed the first signs of impact and now want to share with you solutions how to measure this impact on your website's traffic. No matter how big or small your website is, you can start diagnose it now.
As changes just started to be introduced there is not yet chance to do full analysis (if you reading this after September 2015 you can perhaps see some bigger figures but for now we will see just some difficult to summarise traffic changes).
We thought we will share with you Google Analytics Dashboard solution that will allow you to check quickly what is going on your website with this pesky Google Mobile traffic.
5 Steps to check your mobile traffic condition after Googles Mobile Search changes implementation:
1) Log in to your Google Analytics panel: http://www.google.com/analytics/
2) Apply Google Analytics Solution
When you are logged in go to Analytics Solution: https://www.google.com/analytics/web/template?uid=MMRbXUA-QVqCP5vEqeOU-w
3) Select View
You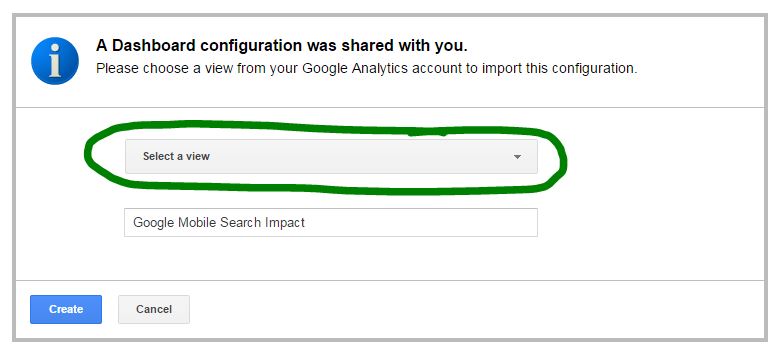 will be presented with simillar screen
From the drop down pick up view that you want to analyse for example "All Website Traffic" and click "Create".
4) View dashboard
You will be now presented with 4 Widget Dashboard (2 Session Graphs and 2 Tables containing figures of your mobile traffic).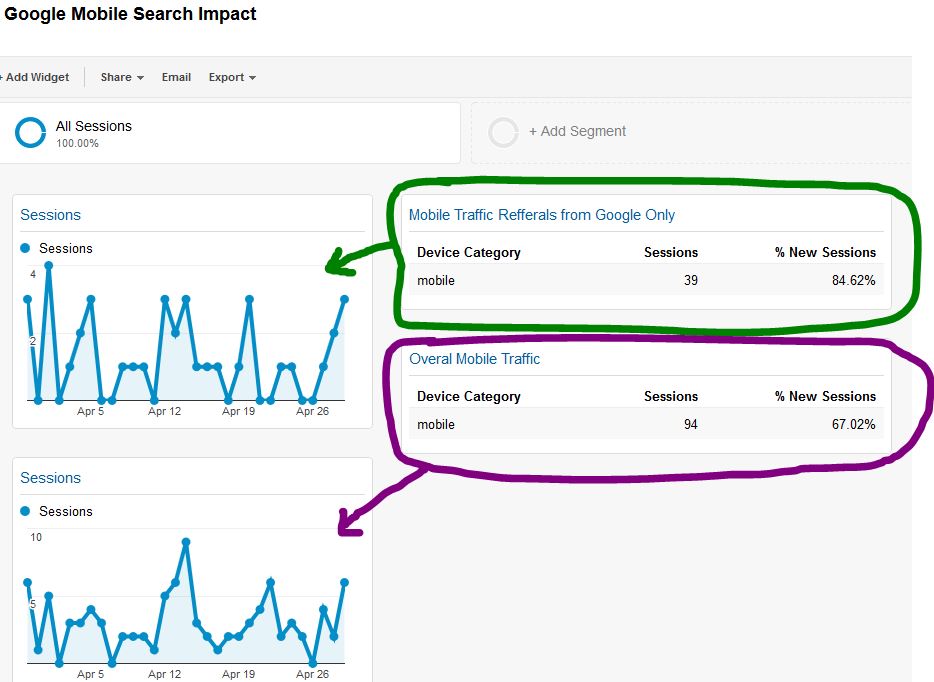 The Green circle and arrow shows widget with Google Mobile referral traffic (all) we pull all assuming if you have a website not optimised for mobile, you should not promote it on mobile in any special way.
The Purple circle shows overall Mobile traffic (all sources)
5) Adjust Dates
What you see at this particular moment is not yet very informative unless you know your traffic figures by heart ;-). To see an impact of Google's change you need to:
a) Scroll up to the top of your Google Analytics panel to see dates selection drop down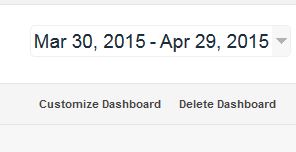 b) Select dates
Think here about 21st Apr 2015 as a border date for now. From this day, Google is rolling out Mobile Search Update, which will affect all not optimised for mobile websites. Please remember this is not necessary the day from which your website is affected. You may see no impact for another few weeks or even months but you may also see the immediate difference from 22nd Apr. This article and our dashboard are created to help you identify this moment.
To find out, you need to play with dates on your panel. You can pick up compare this year to last year but this may not work as there would be a natural difference between these two periods. You can also do "current period" to "previous period" like we did for this example below with the border day 21st Apr. We would advise to do all checks and monitor your website every few days using different dates values. See below: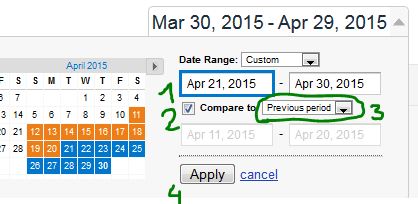 1 – select date based on 21st April as the central date this period should be placed entirely after 21st April (for example May 2015).
2 – tick "compare to" box and pick up from the drop down corresponding period or
3 – set up one yourself using dates entries below – make sure they are comparable Month to month, etc. – This period should be entirely set before 21st Apr 2015 (before Google started rolling its mobile search changes.
4 – Click "Apply" and watch what is happening to your widgets.
If you could not optimise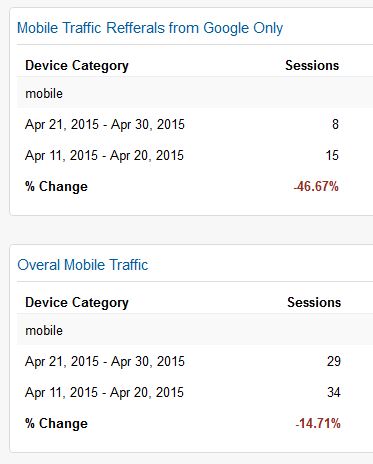 your website, you are very likely to see a lot of "red" indicators with some sharp changes like these:
However if your web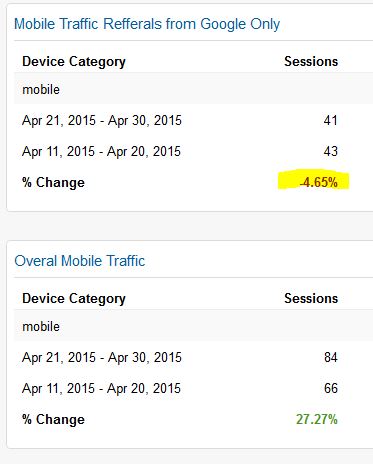 site passed Google mobile friendliness tests before 21st April 2015 you should see something closer to these stats. You are very likely to see no movement at all or some various not sharp movements. Of course, this depends on your other activities in both selected periods – mobile campaigns, etc. The example above shows a drop in referrals from Mobile Google but this drop is insignificant. At this same time, local mobile focused campaign pushed overall mobile traffic up. It will be a typical situation when you for example sending an email campaign, etc.
Summay:
From the above examples, you can see picking up periods to compare results creates very important part of your analysis. It can be only done by someone who understands what was happening during the particular time on a particular website. In general the solution above is for those of you who could not change their websites to mobile friendly on approach to 21st April. You can in this case at least check the impact on visits from Google mobile search and try to identify the moment when this happened. Of course, if your website is not fully optimised for mobile do not try to promote it on mobile at this moment. Concentrate on changes first and there are plenty of solutions available.
If you think about fixes for mobile you can check our "Web Mobilisation" pages.
if you used Absowebly's Google Analytics dashboard solution, you can rate it here on Google Analytics gallery
You worked so hard you deserved now 100 sec of fun with flags!