Twitter have announced a new version of it's website that is currently being rolled out across the world over the next several weeks. The site will be widened to get extra content viewable, as you get to see extra feeds and more features too. This is to stop people having to having to go elsewhere for other information fixes. It will no doubt gain more popularity with all the new features, but hopefully it will not lose the simplicity it has over facebook.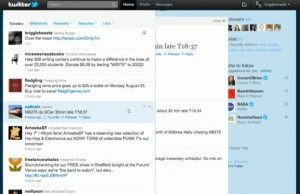 The new version now also includes the ability to use embedded video, which you can see when select a particular Tweet. This is a huge leap forward as you will now have more reason to spend time on Twitter. People will now be able to share more content with each other, whilst commenting on it. This now makes Twitter more attractive as a tool for me to promote my short films.
For some Facebook is too complicated and current Twitter is too basic. New Twitter will meet that middle ground and will no doubt become a much larger force in social media.