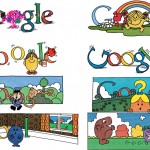 Today Google's Logo is celebrating the 67th birthday of the Mr. Men and Little Miss creator Roger Hargreaves. The British author wrote 90 books in the Mr Men and Little Miss series which have had sales over 85 million worldwide in 20 languages.
The Google changes each time you access the page and features a total of 16 different doodles from Mr Happy to Little Miss Chatterbox.
Click on the thumbnail to view them all!