On Wednesday 6 February 2013 Google announced they will be upgrading AdWords- by changing all campaigns from legacy to a more device-friendly version called enhanced.
This new version will enable marketers to manage ad campaign in the multi-device world of today, in much simpler and smarter way.
Google have stated that they are looking upgrade all campaigns in mid-2013. However, advertisers already have an option available in their AdWords account, should they want to make the upgrade themselves.
Here is a step by step guide on how to upgrade from legacy to enhanced.
(nb. This is a step by step guide for the Simple Upgrade Flow, guides for Bulk Upgrade Flow and Merge Flow will appear on the blog later in the week)
Step 1- Open All Online Campaigns in Google Adwords and select campaign.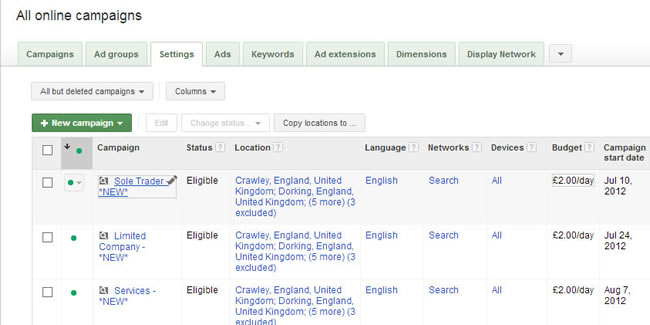 Step 2- Click on the blue "Get started" button which should be located at the top left.

Step 3- A pop-up should appear, click on the "Start now" button.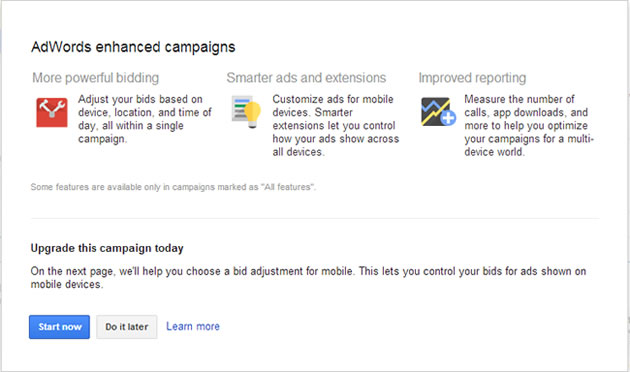 Step 4- You will be given an option to adjust the mobile bid that Google has suggested. Choose an option and click "Complete upgrade".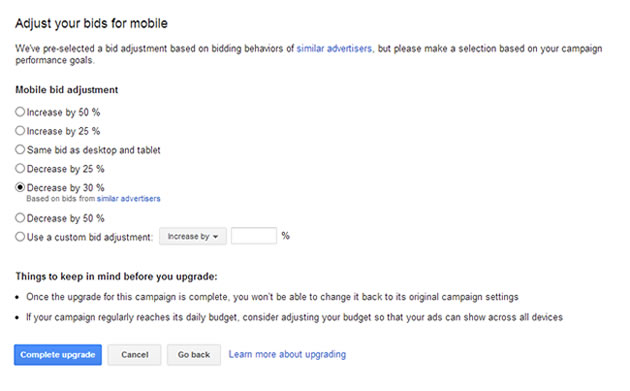 Step 5-  Another pop-up should appear. Click "Close" and then review Post Upgrade Steps.