So
cial
Lo
cal
Mo
bile
Another buzz term from Web Marketing industry but this time highly focused on holistic approach to online and offline marketing which we find very appealing.



In recent weeks perfect case study how SoLoMo concept can be used for the benefit of everyone show cased at "The Big Egg Hunt" in London. Event organised by Action for Children and Elephant Family in cooperation with  Fabergé. Voluntary egg patrols have been created, hospital egg news make in to Facebook and Twitter and as fight with "baddies" continues we learn about eggs reclaimed by the Met Police in main stream media. All this to generate more money for charity in a fun way – SoLoMo in it's best!
Time to find out how you can leverage this online marketing concept in your own business:
Google is a leader in web technologies and concepts there is no difference with SoLoMo. Some of the Google services allow SoLoMo concept to exist in the first place and span together your online activities. The most important is business tool Google Places. Recent updates from Google search Team show us how important this area is for Google delivering good search results.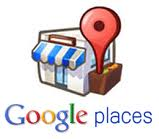 From February, Google are relying more heavily on main search rankings as a signal for your associated Google Places listings, meaning if you have strong natural rankings in Google's main index, your local listing in Google Places will have higher positions.
Top 5 Google Places Ranking Factors
Having the same city in your description as the search is associated with a 1.42 improvement in rankings.
Having at least one photo, and having ownership of listing verified is associated with a combined 1.18 improvement in rankings.
Having the search category (or synonym) in the business name and/or description is associated with a 0.75 improvement in rankings.
Having a secondary business category that is a broader category than the search category is associated with a 0.68 improvement in rank. i.e. secondary category is "restaurant" when search is for "surrey pizza."
Having 5 or more Google reviews was associated with a 0.31 improvement in rankings.
As we touched reviews we can not overlook little stars more and more often popping up on Google. Some of these are unfortunately irrelevant but some from services like Trip Advisor, Qype, Yelp and Trust Pilot have significant impact on our day to day purchasing  decisions.
QR Codes

These are essence of SoLoMo marketing – funny looking square images which you can get printed on any of your marketing materials or even displayed on interactive display screens on public transport or in local pub.
Use them in your leaflets, flyers, etc.
Put posters in your shop window for local passers-by to scan.
Try OKNO.co.uk to create free QR codes and short links.
Listening to the Social Noise, Locally
Just like listening to your local radio station, use twitter as a tool to listen out for all recent tweets people have tweeted using your local area hashtag. For example search twitter for #croydon (to see what's happening in Croydon, right now!).
Try TweetDeck to make your own social listening hub, and listen to more than one hash tag simultaneously.
Events may prove to be good way of communicating with people focused on particular subject. Football Equipment producer and local pub can both generate business from Euro 2012 or London Olympics events. For one business "Local" means their town for others country make sure you recognise where your "Local" audience is.
Facebook/Twitter Location Access (mobile)
Use it in your posts to promote your whereabouts.
Use your own Facebook Page as a location setting to promote your business name within your status updates.
The times small business was able effectivly keep the fort on the top of the results for "short tail" keywords is over. But world of web offers now huge opportunities to explore impossible to explore layers of knowledge. Similar to businesses for users search world is also changing rapidly from:
- 10 blue links with bit of text in 2006 through to
- Universal Search Pages in to
- Personalised Search Result Pages with microformats and even further into
Business web marketing become rocket science over last few years we are now on approach to make choices in our business setup. We may soon need "profesional internet researches" to show us our way around. Similar to the way we institutionalise profession of librarians to help us search for books about 120 years ago we may soon need graduates in "Internet Searches".
The last advice for businesses is connected to overall perception by potential customers. Make sure you monitor your business performance if you realise you have more leads from website than from other sources is time to focus on web. Do not delay investment and make sure you investing wisely.
Enjoy Easter!